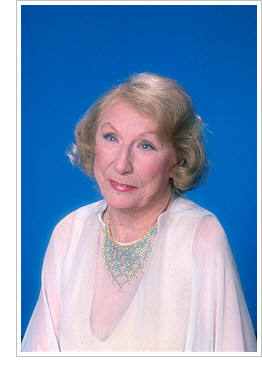 &nbsp
Minx Lockridge is a fictional character on Santa Barbara.
She was portrayed by Dame Judith Anderson and Janis Paige.
Brief Character History
Edit
Minx Lockridge was the feisty grande dame of the Lockridge clan. Her first scene came when she arrived at the Capwell gate in her chauffeur-driven Rolls, saw a mob of newspeople gathered there and barked, "Ambrose, home!" Minx had a long-running feud with the Capwell family, so naturally she disapproved of the teenage romance between her granddaughter Laken and Ted Capwell. Never one to avoid confrontations, Minx often berated her son Lionel for his lack of business sense and was especially acid-tongued towards her daughter-in-law, Augusta. Meanwhile, Minx hired Brick Wallace as the new family chauffeur.
Minx's interest in Brick remained a mystery until he found that he was a Lockridge, the product of Lionel's adulterous affair with Sophia Capwell. Minx explained that shortly after Brick's birth, she had him switched with a baby born to the Wallace family because she didn't want a Lockridge to be raised as a Capwell. The Wallace baby had been raised as Channing Capwell, while Brick Wallace was really Sophia and Lionel's son!
When Lionel learned of Brick's real parentage, he was very upset and refused to forgive Minx at first. Later, after losing her home to C.C. Capwell, because of her grandson Warren's gambling debts, Minx became violent when C.C. came to take possession of the house. She shot him in the derriere with a load of buckshot! Fortunately, Lionel managed to get the house back.
Minx revealed to the family that she lost most of their money on bad investments. Later, she gave her blessing to Lionel's marriage to Caroline Wilson.
Minx returned to Santa Barbara after Lionel once again lost the Lockridge estate, which was now in ruins, to their archenemy C.C. Capwell. With the help of an old friend named Maxwell Hammer, Minx managed to scam her estate back. Later, in order to market the rejuvenating spring water under the estate, the Lockridges were forced to go into business with C.C. The business venture was called Capridge Water. Meanwhile, Minx hired Michael Donnelly to find the daughter she gave up at birth. Her daughter turned out to be none other than Cassandra Benedict, C.C.'s sneaky foster daughter.
Minx told Cassie the truth, but not before testing her loyalty. Furious, Cassie denounced Minx and wanted to to know the identity of her father, but Minx nixed telling her. After Minx let Cassie read her diary, which expressed her love for her daughter, Cassie finally began to soften toward her mother. Meanwhile, Minx started to rebuild the Lockridge estate.
Much to Minx's chagrin, Lionel married Gina Timmons and moved Gina and her baby Channing into the new Lockridge mansion. She ultimately learned to live with it.
In the final episode, Minx attended Warren and B.J. Walkers wedding. She was last seen sharing a dance with Dr. Micah DeAngelis.